The Avocado Green Mattress In-Depth
Is it really eco-friendly? see the pros, cons, and if the avocado mattress is the best green luxury choice for you

What is the Avocado Green Mattress?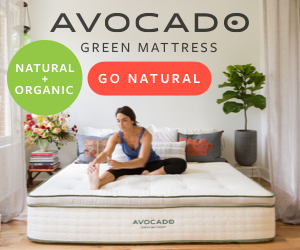 Avocado makes natural latex mattresses with organic wool or vegan cotton, recycled metal inner springs, and optional extra pillow top. They're a GREENGUARD Gold Certified company for low emissions and use an offset program for carbon neutral production.  The mattress is rated at a medium-firm 7 (standard mattress) or medium 6 (mattress with pillow top) to sleep on, which makes them a great choice for back and stomach sleepers, and good choice with pillow top for side sleepers.  They have a good warranty and average bed-in-a-box sleep trial, so you can test the mattress from the comfort of your home.
The Top 5 Things to Know About Avocado Green Mattresses
Just looking for the tl;dr summary? Here are the top five points, pros and cons, about buying an Avocado Green Mattress: 
It really is eco-friendly – Avocado makes an effort to minimize its footprint at every step of the process, from manufacture to disposal, even purchasing carbon offsets to neutralize the impact it does have.
There's a fully vegan option – Avocado's

vegan mattress

uses cotton instead of wool, and all equipment is cleaned and sterilized between wool and cotton production (making this a better option for people with wool allergies also).

The mattress has a medium-firm texture, or medium with their built-in topper – medium firm tends to be best for people who are normal to larger in weight, stomach and back sleepers, and people with back pain that's not caused by a chronic condition. Medium mattresses tend to be best for lighter than average people, side sleepers, and some types of chronic back pain.  
It has a 25 year limited warranty (which is basically a 10 year warranty and 15 year pro-rated purchase option) – replacement under warranty conditions is free for the first 10 years, then increases in cost each year after that, starting at 50% of the original purchase price (see the warranty section below for how this works).
You can try it at home for 100 days – this is about average for sleep trial periods, and gives you a bit over 3 months to see if the mattress is right for you. If it isn't Avocado will arrange to have the mattress picked up, with no re-boxing or return fees on your end.
If you'd like to check Avocado out, they have a Spring Sale going on through May 13th that for $150 off your mattress (use code NATURE150). In for the long haul? Keep reading for an in-depth look at what makes this a better earth-friendly choice and one of 2019's best mattresses. 
What Makes an Eco-Friendly Mattress?
Calling something "eco-friendly" means looking at where it starts, how it works, and where it ends up when you're done with it. In this case, one of Avocado's main selling points is its starting materials – natural latex, wool, and recycled metal for the inner springs.
Why natural latex? It's different from memory foam in a few ways.
Where it comes from:
Natural Latex comes from trees –

weird as this sounds, natural latex is basically processed tree sap. To get it, harvesters cut into the trunk of a rubber tree (

Hevea brasiliensis

), then collect the sap in a bucket as it runs off. From there, it's whipped, poured into a mold and then steam-baked to make layers for the mattress. Each tree can be harvested for 30 years, making it sustainable and forest-friendly.

Memory Foam is a manufactured polyurethane blend

– originally created by NASA to make safer aircraft cushions, memory foam is made by pouring together chemicals (polyurethane and a few other things) and pumping in gas to make a springy, compressible material. Older ways of manufacturing memory foam were very expensive and harmful to the environment, but newer types are cheaper and more eco-friendly. 
How it works while you sleep:
Natural latex doesn't off gas, but can have a rubbery smell for a while

– how much you experience a smell will come down to the way the latex was processed and how strong your sense of smell is. If you get a mattress with a topper (like the

pillow top version

here) it should tone it down even more, but either way any lingering odor should be gone in a month or so.

This is different from a latex allergy – if you're allergic to latex, choosing a different material to be on the safe side is a better choice (see more below).

Most memory foam has some off gassing –

this is the breakdown of some of the chemicals used in the process of making memory foam, and it can last for up to a month after the mattress is set up. It's not dangerous, but it doesn't smell good, and people who are sensitive to the odor can find it pretty unpleasant. Many of the newer types of memory foam have less of a smell, but it can be hard to tell before you unpack it.
Natural latex is fully recyclable

– when you're done with your mattress, the natural latex in it (as well as the wool and metal) can be safely recycled. It's also durable (lasting up to 25 years), so it needs to be replaced less often.

Memory foam can also be recycled –

the foam in memory foam is recyclable, and many manufacturers have an in-house program to make use of old mattresses. Most memory foam won't last quite as long (it has closer to a 10-year average), but it doesn't need to end up in a landfill either.
In addition to using natural latex, Avocado has an impressive range of features and programs that make it an exceptional environmental choice:
Their wool is certified organic (and their

vegan mattress

uses certified organic cotton instead of wool)

The innersprings are made from recycled metal

They use carbon neutral production and shipping by supporting carbon offset reforestation projects

As a company, Avocado is rated as GREENGUARD Gold Certified for low emissions

They're a member of the 1% For the Planet organization, donating 1% of their profits to environmental organizations
All this makes Avocado one of the most eco-conscious, eco-friendly choices, with a minimal footprint in production and fully recyclable end product. If you're looking for a green option, Avocado makes a genuine effort to make their mattresses sustainable.
Can People with Latex Allergies Use a Latex Mattress?
Will using a latex mattress cause problems for people with latex allergies? In short, probably not – the heating and washing process should get rid of most of the proteins that cause an allergic reaction, but if you have an allergy, "probably" isn't really good enough. There are no published medical issues with mattresses causing allergic reactions, but there are anecdotes (which may be the mattress or something else), and with all the improved foam options out there, it's just not worth the risk. If you have a latex allergy and want something green, try a brand like Saatva that focuses on eco-conscious memory foam.
For a little more detail, there are two main ways to make latex mattresses – Dunlop, which whips, molds, bakes and washes the latex, and Talalay, which involves extra freezing and washing processes after the main mattress shape is formed. Talalay is softer and more likely to remove close to all of the proteins that cause allergies, while Dunlop is more affordable and eco-friendly. As part of its green production, Avocado uses the Dunlop method, so it's a great option if you're looking for something extra good for the environment, less so if you're worried about having a reaction.
What are Avocado Mattresses Like to Sleep On?
Avocado makes "hybrid" or "combo" mattresses, meaning they have a foam layer (in this case latex) and inner springs. For most people, hybrid mattresses are some of the most comfortable and versatile because they combine the give and support of inner springs with the contouring of modern foam. The layers in this one include:
Organic wool and cotton cover

– Avocado uses hand-tufted cotton for comfort and to hold the mattress layers in place (without chemical adhesives), as well as a wool layer (in the non-vegan version) for temperature regulation, natural anti-fire properties, and bounce  

Two layers of organic latex

– a 2" layer of soft latex for comfort and 1" layer of core latex for support

Individually wrapped innerspring coils

– made from recycled metal, the 700+ innersprings are arranged in five different "zones" to provide better support for different parts of the body (for more on the zones, check out the details and video

here

).

Optional 2" built-in topper

– additional pillow top (made from soft organic latex) for people who prefer a softer bed. This takes the firmness rating from a 7 down to a 6.
As with any mattress, comfort depends on what you're looking for. This one comes in medium firm (at a 7) for the standard, or medium (at a 6) with a pillow top, which means that in general: 
The standard will be best for people who: 
Are on the average to larger size – firm mattresses provide more support, give and contouring, which can help prevent and reduce back pain for most people. People who are very light and don't sink in can find the firmness uncomfortable. 
Sleep on their back or stomach – the type of even support provided by a firm mattress is great for people who sleep flat. Side sleepers can be comfortable on this type of mattress, but it varies more from person to person (with larger side sleepers likely to be more comfortable than smaller ones). 
The pillow top will be best for people who: 
Are smaller/lighter than average – if you don't sink into standard foam mattresses or find them too hard, this is a better choice and will provide support without feeling hard
Sleep on their side – softer mattresses generally adapt better to the shape of side-sleepers since it's a less flat position and needs more subtle support.
Either way, anytime you're using a new mattress, and especially if it's firmer than your old one, it can take 30 days to adjust to the new sensations. Give your body and sleep patterns some time to adjust before deciding it's not the right fit for you – you'll have a few months to think it over, take your time!
There are a few options for your Avocado mattress choice, all built around their base model: 
The Avocado Green Mattress – this is the base model 11″ mattress with organic latex, wool,  cotton, and innersprings, coming in at a 7 medium-firm texture
Vegan mattress – same as above, but with 100% organic cotton instead of latex
Mattress with pillow top – this can be vegan or standard, and includes an additional 2″ of soft latex for a plusher, softer feel. The pillow top can be added on the same page as the mattress if you want it attached, or ordered here if you want it as a separate piece. 
If you're into all-in-one shopping, you can buy your mattress, pillows, and bed frame all in the same place. Outside of convenience, this also guarantees that all of your bedding will be made with the same eco-friendly attention to detail as the mattress itself. Bed frames come with or without a headboard and are made of 100% reclaimed wood, while the pillows are made of the same green certified organic wool and latex as the mattress (plus some Kapok in the filling; another organic plant fiber).
If you want to enhance your existing mattress or adjust the firmness on your new Avocado purchase, they also offer mattress toppers in the full range of sizes and either a plush or firm feel. Like the mattress, they're available in wool and vegan versions.
At $1,400 for a queen size ($1,250 with the current sale), Avocado's price is about mid-range for a bed-in-a-box, and on the lower end for a luxury or latex mattress (in part because the hybrid latex and innerspring construction helps with costs as well as weight). It also uses high quality and ethically sourced materials, which costs more, making it on the pricier end but still a good value.
Avocado has a good trial and return policy, allowing you to test your mattress at home for 100 days post delivery. If you have issues during your trial, they'll try to fix the problem before refunding you, so expect a little back and forth before your return. As with many bed in a box providers, returns are accepted by arranging to donate your mattress to a local charity or recycling center (they don't resell used ones), and Avocado will work to coordinate a pick up for you. Refunds are provided after the donation, so this can take a little time to arrange if you're in a more remote area. As with all mattresses, it's a good idea to try it for at least 30 days before making a return, since it can take time for your body to adjust to the new firmness level.
The warranty setup is kind of weird and not as straightforward as some online mattress providers. Rather than having an across the board coverage, there's a full, free replacement warranty up to 10 years, followed by a prorating system that basically has you buying a new mattress by the time you hit 20 years in.
Again, first 10 years, great warranty. For the prorating, your consumer cost to get a replacement increases by 5% per year starting at 50%, up to 95% of the original purchase price. Basically, if the mattress is $1,400 to replace, you'd pay nothing at 10 years, $700 at 11 years, $770 at 12 years, up to $1,330 for years 21 to 25 (and no one is going to go through a warranty replacement process for $70 off a mattress).
If warranty is a big deal for you, consider a brand like Puffy that offers full lifetime replacement. Otherwise, think of it as a standard 10-year warranty with some extras when doing your comparison shopping.
Before your mattress ships, there's a 5-7 day assembly process (or up to 3-4 weeks for custom to-order bed frames). After that, your shipping depends on the mattress you order – queen size (no pillow top) and smaller will ship free via FedEX, while queen with a topper mattresses and larger will be delivered free curbside by AGS. FedEX shipping can take 1 to 8 business days depending on how far you are from California, and AGS takes around the same time but requires an appointment (scheduled online) for delivery.
Either way, expect a wait time of between 6 and 15 days to receive your mattress.
Important side note on shipping – the reason large mattresses ship via AGS is weight; latex ways more than memory foam and king size mattresses are more than 150 lbs. If you're concerned about setting up something this large, Avocado offers an in-home option for $200 that will set up your new mattress and remove the old one.
Avocado's customer service is efficient and they will honor their trial and return policies with relatively little hassle. Most of their communication is done by online chat, but they will do phone calls by appointment if that's your preference.
How is the Avocado Mattress shipped?
As a bed in a box, it will come in a compressed form – make sure to unpack it within two weeks or it can damage the materials! A queen size with no topper and smaller will ship via FedEx, and larger sizes will ship with AGS. If you request to have it set up or it's too heavy to ship via FedEx, you'll need to make a delivery appointment though the AGS website. 
What are the practical differences between memory foam and latex?
Outside of eco-friendliness, there are a few differences to consider when choosing natural latex. First off, it's much heavier than memory foam – these are hybrid mattresses with an inner spring core and the king size still exceeds 150 lbs. It's also springier and will return to it's starting shape faster than memory foam. This causes motion transfer that can be annoying for people sleeping with a partner, but the inner springs in Avocado's will help with this. In general, it's a really good starting material that works better combined with something else, which is why getting a hybrid (like this one) is a good way to go. 
Does the Avocado Mattress need a box spring?
No, and it's actually recommended not to use one with it. Since a box spring has springs and your Avocado mattress has springs, you'll get a spring-on-spring feeling will be less comfortable and supportive. Avocado recommends a firm, flat base, or slatted bed frame with slats less than 5″ apart. 
Where is the Avocado Mattress made?
It's assembled in the USA with some parts made overseas (e.g. the natural latex is farmed in Asia). 
Should I flip my Avocado Mattress?
Like most modern (and especially foam) mattresses, Avocado's is layered to provide a specific sleep experience and shouldn't be flipped. They do recommend rotating it head to toe once a month for the first 6 months, then once every other month for the life of the mattress.
Yes, as long as you have no allergies/sensitivities to wool, cotton, or latex. While latex mattresses are unlikely to cause a reaction (most of the proteins that cause problems are removed during production), there are lots of quality options that don't have any risk for people who are allergic to latex. If you're not allergic, natural latex is a safe material without the standard additives found in memory foam – it can have a rubbery smell that fades over time, but it doesn't off gas. 
Idle Sleep Mattress: Full Review for 2020 everything you need...
Idle Sleep Mattress: Full Review for 2020 everything you need...