The criticisms, benefits, and what to know before you make Nectar Mattress Your Memory Foam Choice

What is a Nectar Mattress?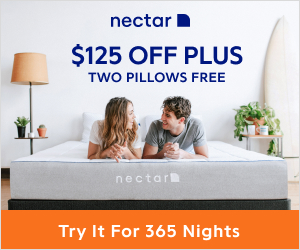 Nectar makes an affordable, layered memory foam mattress with an excellent return policy and long trial period. While their quality and comfort are generally well reviewed, there have been some complaints in their customer service (especially time to respond) and longer-than-average ship times – we'll be covering those pros and cons in detail and why you should still consider Nectar when making your next long-term mattress choice.
The Top 5 Things to Know About Nectar Mattresses
Just looking for the tl;dr summary? Here are the top five points, pros and cons, about buying a Nectar Mattress: 
It's a good value – Nectar mattresses run less than $1,000 and use high-quality, safe cooling gel and memory foam. It's also a firm mattress, which is a good choice for back and stomach sleepers.
You can test it for a year – there's a 365 day trial period with free returns, so you can check long-term comfort and seasonal performance
It has a "forever" warranty – defects and problems with a Nectar Mattress are covered for life – this includes common memory foam issues like permanent indentations (of >1.5″).
Customer service claims can take a long time – if you have a problem or decide the mattress isn't for you, expect a few days wait on hearing back for a resolution. 
Purchase to delivery can take a week or more – the actual shipping should be about two days, but sometimes there's a delay in getting the product out the door. On the bright side, shipping anywhere in the contiguous USA is free. 
If you'd like to check Nectar out, they've not only dropped their prices, but offer free pillows along with each mattress.  In for the long haul? Keep reading for an in-depth look at what makes this one of 2019's top mattress choices. 
Nectar's 5-layer mattresses have a little bit of everything, and are designed to be cooling, supportive, and comfortable. They use safe, medical-grade foam that's also environmentally friendly, as independently verified in their CertiPUR-US certification.  Their layers include:
Long staple cotton and tencel cooling cover – a mattress cover might not sound particular new or exiting, but this is actually pretty neat. Long staple cotton is the fiber that makes Egyptian cotton so luxurious, and tencel is a super eco-friendly wood fiber that adds a silky feel and wrinkle-proofing. It also helps air to circulate so the mattress is cooler in warm climates.
Quilted gel memory foam – quilting (on any mattress) adds thickness and softness while keeping the materials in place, while gel memory foam is a cooler, more breathable foam bedding that also bounces back faster (and is generally more expensive).
Gel memory foam – thicker, non-quilted layer for support.
Adaptive hi-core memory foam – firm, supportive layer for comfort.
Breathable base layer – this is a dense foam layer to make the mattress more supportive. Nectar's base is unusual in that it has a 2.2 ILD rating (the standard is 1.5). ILD (Indentation Load Deflection) is a measurement of how much force it takes to compress a foam to a quarter of its original height, so the higher the number, the firmer the foam. 
As with any mattress, comfort depends on what you're looking for. This is a firm mattress (Nectar puts it at 5.5 to 7.5, but it's probably closer to a solid 7) with moderate cooling, which means that in general it will be best for people who: 
Are on the average to larger size – firm mattresses provide more support, give and contouring, which can help prevent and reduce back pain for most people. People who are very light and don't sink in can find the firmness uncomfortable. 
Sleep on their back or stomach – the type of even support provided by a firm mattress is great for people who sleep flat. Side sleepers can be comfortable on this type of mattress, but it varies more from person to person (with larger side sleepers likely to be more comfortable than smaller ones). 
Give it 30 days to adjust – it takes a month for most people to adjust to a firmer mattress, even if it's healthier in the long run. The year-long trial offered by Nectar doesn't even start until the first 30 days are up, specifically for this reason. 
It's also designed and warrantied to keep its shape, so don't count on it getting a lot softer over time. This is excellent if you're looking for a firm mattress that will give you years of use, but make sure that's what you want (and remember, you'll have a year to figure that out). 
There's not a lot to see here – there's one mattress style, and it come in standard mattress sizes.  If you like what this mattress is (and there's a lot to like!), you'll know exactly what you're getting, but no custom features with this one. 
There are a few add-ons available, the biggest being the bed frame. The most basic frame, the foundation, is offered right along the mattresses – unfortunately, it's also the one product they sell that's has some real complaints in quality (mostly in the legs, which are not as sturdy as they should be). The adjustable and headboard versions are better, if you want to get your frame at the same time as your mattress. On the bright side, Nectar's mattresses also work with any frame, and like most modern mattresses, don't need a box spring to be comfortable. 
Nectar also offers sheets, pillows, and a weighted blanket, which are middle-of-the-road cost to kind of pricey. If you have the time to comparison shop, Amazon has a huge variety off all those things, generally for a bit less. 
Cost is one of the big benefits that comes with Nectar's products. An 11″ thick, queen size mattress runs a bit under $700, and you can add the bed frame for another $250. Shipping is free, so there should be no surprise add-ons at checkout. 
Nectar has an excellent test and return policy, offering a full "365 day trial" period to see if you like the mattress. It's actually a little bit longer than that; because of the standard 30-day adjustment period when switching to a firmer bed, the year-trial doesn't start until after the first month post delivery.
The reason Nectar offers a longer trial comes down to general use – this lets you test the mattress in winter and summer, with visiting kids, if you're not feeling well, and whatever other random life events come up to make sure that you actually like it. This is extra important with online shopping, and makes Nectar a standout in how they handle the comfort and reliability of their products. 
Nectar's warranty is also great; they offer a forever (lifetime) warranty for normal use, so if you have a problem 20 years down the road you're still covered. This includes memory foam issues like permanent impressions – if they're beyond 1.5", Nectar will send a replacement mattress, for free. Returns and exchanges can also be made without the original packaging, so no need to keep any boxes in storage.
Delivery time has been an issue for Nectar. When they're fully stocked, it doesn't seem to be a problem unless they're getting very high order volume; mattresses ship in ~3 business days and arrive about two days later. As a company that has grown large fairly fast, keeping a full stock and making sure the initial shipment can happen on time hasn't always gone smoothly, and some customers have waited 10 to 14 days (sometimes longer) past the expected arrival time to get their mattress. Large order batches also seem to cause shipping to take longer.
If you're interested in Nectar but worried about the delay, Amazon also carries their mattress and it's eligible for Prime shipping, so you'll know exactly when it's going to be there. Be aware – if you buy through Amazon instead of Nectar directly, there's still at trial period, but it's 180 days instead of the 365 offered by the company itself.
Customer Service and Nectar Mattress Complaints
Far and away the biggest issue shoppers have had with Nectar is the delayed response time and phone time-outs in trying to reach customer service. It can take a few days to get a response, and any back and forth after that can make it take longer. Their customer service line doesn't seem to have a voicemail attached, and will simply end the call if no one has picked up after a 20-minute hold. Email is better, especially for returns that fall under their trial period; the warranty can be a lengthier process since it requires pictures documenting whatever the problem is. It can also be a challenge to arrange the pickup or donation of the defective/unwanted mattress in smaller cities, since they don't have widespread physical locations.
Our recommendation – if you have an issue, use email, send pictures (if you're looking for a replacement instead of a refund), and don't be surprised if you wait a few days to hear back. They do honor their policies, but it can be a bit of a hassle.
How long does it take for Nectar Mattresses to expand?
Like any good memory foam, Nectar Mattresses take a while to go from their shipping state to true mattress size. Expect to wait 24 to 72 hours for it to fully expand, though these can be used to sleep on straight out of the packaging. 
Where are Nectar Mattresses Made?
Nectar Mattresses are made in China and shipped into the US for distribution. This can make the time from order to arrival longer, as stock needs to be periodically imported. It also part of what makes Nectar Mattresses more affordable, especially for the materials used. If buying a quality mattress that's made in the USA is important to you, consider a brand like SleepEZ as an alternative. 
Yep! The materials are medical-grade and it uses what's called "CertiPUR-US" certified foam – this means that the foam has been tested and given a certification for health and environmental safety. CertiPUR maintains an independent list of companies that meet it's rigorous certification and periodic re-certification guidelines; we recommend verifying that any memory foam mattress you're considering is on there (you can see Nectar on the list, we looked too!). 
Reviews of the best and most affordable electric chairs to...
Is My Pillow the Best Mattress Topper for You? Read...
The Best Mattresses to Buy in 2020 The best mattresses...