Idle Sleep Mattress: Full Review for 2020
everything you need to know about the Mattress, Trial and Warranty (including the fine print!)

Idle Sleep promises a great sleep with one of the best warranty's on the market. Here's how it really stacks up.
Idle's mattresses are high-quality, and about mid-range in price.  The big benefit compared to other memory foam/hybrid manufacturers is that they really are made for long term use – they're double sided and can be flipped for durability, and their warranty program is unusually good. Keep reading for the pros and cons, and to see if any of their mattress options are a good fit for your lifestyle.
Quick Summary - Idles's Pros, Cons, and Prices
Just looking for the tl;dr summary? Here are the top five points, pros and cons, about buying an Idle Sleep mattress: 
Idle sells 4 types of mattresses.  Their hybrid mattress, the most popular, is $1,400 (or  $1,065 with their current fall discount); it's a blend of cooling/supportive memory foam and stabilizing coils. They also have two types of just-foam mattresses ($600 and $1,000 on sale) and a natural latex version (about $2,100). All are double sided, and some can be customized for firmness. 
There's an 18 month trial period.

You can try the mattress for 18 months and return it, for free, with no questions asked (yes, they really honor this). 

There's an actual lifetime warranty.

It covers product defects and even "sag" of .5″ or more left by body impressions.

Shipping is free, but not always fast.

 Especially with supply chain and mailing issues in the time of COVID-19, you may have a wait time of between two weeks and a month. If you've also ordered accessories, don't be surprised if they ship separately and take longer to arrive. 

Customer service can take a while to get back to you. Problems with Idle are uncommon compared to some of the other large mattress brands, but when you do need to send a message, it can take a few days to hear back

.
If you'd like to check Idle out, they have a fall discount going on right now of 25% off (or a free adjustable base) and two free memory foam pillows with every mattress purchase. In for the long haul? Keep reading for an in-depth look at the pros and cons of this very popular mattress choice. 
Idle's Mattress Breakdown
Idle Sleep makes four types of mattresses, with prices ranging from $750 to $2,700 for a queen ($600 to $2,150 with the Fall Sale). Most of them are memory foam based, but they also offer dunlop and talalay latex versions if you want something a little more eco-friendly. Here's what to expect for each type, and how the value compares to similar mattresses on the market. 
First off, what is a hybrid mattress? The "hybrid" just means that it's a combination of foam on the outside (memory or latex) and wrapped inner spring coils on the inside – the foam gives it comfort and coils provide support and stability. Lots of companies make hybrid mattresses and they're known for being comfortable and lighter than mattresses made of just memory foam. 
Idle's hybrid has three different types of foam on each side to make it fully flippable, with a 6″ layer of pocketed coils in the middle (making the inside look kind of like an ice cream sandwich of mattress materials). The layers include: 
Mattress cover and fire-resistant barrier

– protects the inside mattress materials.

1″ Contouring foam

– adds softness and comfort over the supportive layer.

2″ Cooling buoyancy foam

– designed to react better and retain less heat than normal memory foam.

1″ Support foam – transitional support layer to help with firmness (firmer mattresses are generally better for joint and back pain).
6″ Pocketed coils – these are the inner-springs that add stability and reduce motion transfer, meaning you're less likely to disturb anyone sleeping next to you. There are a lot of them (1,000 per mattress), and they're individually wrapped for independent movement. 
All of the foam layers again – it's a double-sided mattress, so after the coils there's another layer of support foam, buoyancy foam, contouring foam, and cover. 
In addition, it comes in medium firm (comfortably firm for most people), and luxury firm, which is good for people who only sleep on their stomach, or people weighing more than 300 lbs. If you and your sleep mate need something different, you can get it half luxury/half medium; all versions are the same price. 
The Idle Hybrid Compared to Other Good Hybrids on the Market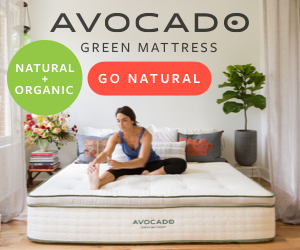 Materials – The Avocado Green Mattress is a natural latex hybrid mattress with 1,400 inner-spring coils arranged into 5 "zones" for comfort and stability. Everything is sustainable, natural, and organic, down to the cotton and wool used in the cover.
The Idle Sleep Hybrid uses synthetic memory foam and cover materials, which are standard for most foam-based mattresses.
Price – The Avocado Green Mattress is $1,400 for a queen,  versus Idle's current price of $1,065 (normally $1420).
Warranty and Trial – The Avocado Green Mattress has a 1 year sleep trial and 25 year warranty; Idle has an 18-month (year and a half) sleep trial and lifetime warranty.
Other Perks – The Idle Hybrid is flippable, while the Avocado Green is not, and you can order you Idle to be firmer on one side than the other.
Conclusion: These are both really good mattresses. Go for the Avocado if you want something more eco-friendly, go for Idle if you and your sleep partner want a different firmness (e.g. side vs stomach sleepers), or you're worried about wearing out your mattress. 
Materials – Plush Beds makes another natural latex hybrid mattress – everything is certified eco-friendly and organic, down to the mattress cover. 
Price – Plush Beds is usually on the pricier end at $2,400 for a queen; with their fall sale they're giving a massive $1,100 off, bringing the price down to $1,300 for now (so if Plush Beds was one of your top picks, this is a good time to just buy it).  The discount makes it a bit over Idle's current price of $1,065 (normally $1420).
Warranty and Trial – Plush Beds has a 100 night sleep trial and 25 year warranty; Idle has an 18-month (year and a half) sleep trial and lifetime warranty.
Other Perks – Plush has a huge range of products, so if you like their natural latex, you can get it in everything from a sofa bed to RV mattress. 
Conclusion: Plush Beds makes comfortable, highly rated mattresses, but has a much shorter sleep trial. If you really want something from Plush, now's the time, since their current sale brings the price down to the same range as Avocado and Idle. 
Idle's Gel Foam and Gel Plush Mattresses
Idle's Gel Foam and Gel Plush mattresses are both solid foam/memory foam – the Gel Foam mattress is 12″ with three types of cooling/supportive foam, while the Gel Plush is 14," including a 1″ cover that has gel sewn into the surface. As far as memory foam mattresses go, these are pretty standard (high-quality and comfortable, but nothing revolutionary), so here's a quick list of the pros and cons: 
The price point on Idle's Gel Foam is excellent

– High quality memory foam with a long sleep trial and warranty for less than $650 is great. Nothing is reinventing the wheel here, but if you want this type of mattress, it's a great buy and you'll probably be really happy with it. 

These aren't flippable

– They're standard, stacked foam mattresses with a bottom side and top side.

The Plush version is softer than the Gel Foam

– The plush mattress is about a 5/10 in terms of firmness, while the gel foam is around 6-7.

Both mattresses have the sleep trial and warranty -You get 18 months to test them and a lifetime of coverage. 
In short, they're both very nice memory foam mattresses at a really good price. If you just want something affordable and comfortable that you can use for a long time, Idle Sleep is one of the best choices. 
Idle's Dunlop and Talalay Latex Mattresses
Idle's Dunlop and Talalay latex mattresses are flippable hybrids with 3″ of latex per side and an inner spring center. A couple of quick things to know about latex mattresses: 
The difference between Talalay and Dunlop

– Both are made of natural latex, with Dunlop being springy, denser, and easier to produce. Talaylay is "bouncier," but, in general, there isn't a huge difference in sleeping on one vs the other. 

Most latex mattresses are hybrids – natural latex is expensive to produce and very heavy, because of this, almost all latex mattresses are hybrids. 
This is a flippable mattress

– If you're worried about wearing your latex out, these can be flipped to the other side. 

You can get half and half on firmness

– These can be customized to half firm, half medium.
Idle's latex mattresses are good quality, have their excellent sleep trial and warranty, and can be flipped. At the same time, if you're not worried about turning your mattress over, Avocado's are also very highly rated and even cheaper ($1,400 for a queen) than Idle's are on sale. 
Idle Sleeps' Warranty and Sleep Trial
Idle's 18 Month Sleep Trial
Idle has an excellent 18 month trial period for its mattresses, here are the important points and fine print: 
You need to try the mattress for at least 30 days to return it

– It can take a while to get used to a mattress, especially if it's firmer. Idle's return policy means you can take it back any time after the first 30 days, and before your 18 months are up. 

Contact Idle to return a mattress and they will coordinate the details

– If you don't like the mattress after your 30 day test, Idle will coordinate to have it picked up.  

Shipping and returns are free, but "white glove service" isn't refunded – If you used "white glove service" (meaning the set your mattress up for you inside), that service charge isn't refunded. The full price of the mattress will be.
It can take a little while for your return to be processed

– Idle honors its return policies, but their customer service is known for being on the slow end to respond. Expect a bit of a wait between when you initiate your return and when your mattress is picked up. 

Email instead of calling for returns or replacements – Their customer service can take a while, and their phone sales team can't access existing order info. Email them at [email protected] if you have a problem. 
Idle offers an actual lifetime warranty, which is rare (most mattress warranties are scaled to refund less of the value over time). It also covers more than most memory foam manufacturers – here are the important points: 
What it covers

– Idle's warranty covers "any and all manufacturing or material related issues, even sag and body impression from normal use," meaning it also covers indents of greater than half an inch caused by sleeping on the foam. 

Coverage doesn't mean you always get a replacement

– If your mattress can be reconditioned or repaired, Idle may fix it instead of sending a new one.  

You need to use your mattress normally for the warranty to be valid

– It needs to have been used on a supportive bed frame, you can't cut the mattress up or set it on fire; basically, it covers problems with how the mattress was made or how it has sagged from use – it doesn't cover accidents or intentional damage.

The warranty covers the original owner only – If you sell your Idle Mattress or buy one used, the warranty doesn't come along with it (also be careful buying from third party distributors since the warranty may not be valid). 
Still interested? Check out Idle's fall sale and mattress lineup to see if this is the mattress choice for you!
Reviews of the best and most affordable electric chairs to...